ASaP – Your School's ASP made easy
Two simple to understand reports with personalised analysis on every page
ASaP (Analysing School Attainment and Progress) is your essential electronic guide distilling your school's ASP (School Performance Summary) into:
The ASaP Report – a ready-made Summary of your School

The ASaP Appendix – discrete analysis by cohort groups

(not available in ASP)
---
Order before 26th July and receive both for £199 (Use Code EARLYBIRD)
---
The ASaP Report
ASaP is packed with ASP charts plus our ready made performance statements covering the basi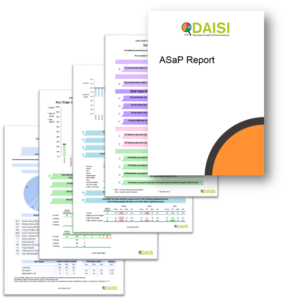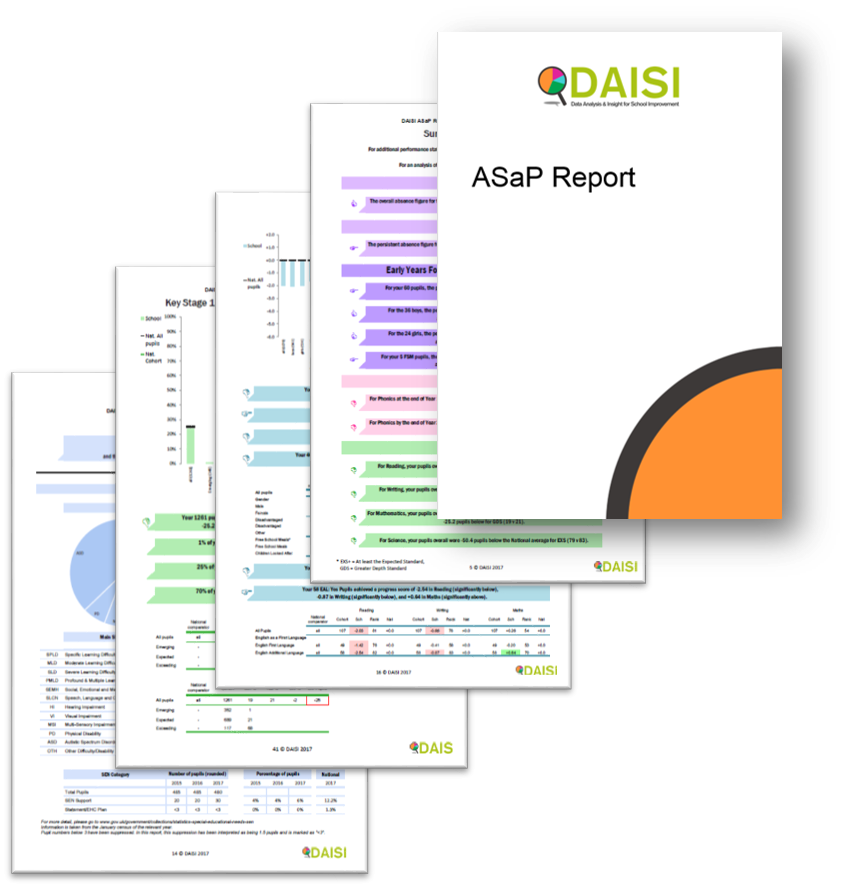 c characteristics of your school:
Absence
Early Years
Phonics
KS1
KS2 Attainment and progress
It reports:
By subject and pupil groups
Percentage of pupils
By Attaining each outcome
Prior attainment
Closing the gap
---
Order before 26th July and receive both for £199 (Use Code EARLYBIRD)
---
The ASaP Appendix
Your ASaP Appendix report presents your data by cohort type – a feature not available in ASP.
We present a 3-page analysis for up to 42 different cohort types, including:
Boy and Girls separately
Free School meals
Looked after children
Disadvantaged
English as an additional language
SEN
and each of your pupils' ethnicities.
This cohort analysis saves you valuable time and is not available in the ASP.
---
ASaP provides clear performance statements of the main data and what it means to your school. All Reports have been created with Governors and Key Stakeholders in mind.
You can easily:
Incorporate key messages into the data section of your SEF
Use key analysis in your school development plan
Work with key staff to ensure evidence-based decisions are taking place around curriculum planning
Use to present your data in a simple way to Governors and school improvement partners to help them support you better.
Perhaps most importantly you can use it to prepare for Ofsted as it is cross referenced to the Ofsted Inspection Data Summary Report (IDSR).
---
Ordering is Easy
We will then ask you to download data from your school's ASP online account and send it to us.
It should take about 5-10 minutes.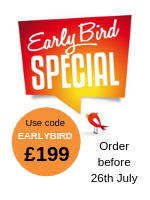 Usually, the reports cost..
£150 for one report
£249 for both Summary and Appendix
Order before 26th July and receive both for £199 (Use Code EARLYBIRD)
Are you a junior/middle or infant/lower school?
Junior/Middle – One Report for £100,

both for £169

.

(EB £139)
Infant/Lower – One Report for £70,

both for £115

.

(EB £99)
We provide two versions of your reports, one using your unvalidated data, and then a second report using your validated data.
We can also create an alternative report based on your School's Own Data, as opposed to the data within ASP.
We aim to produce ASaP reports within 4 working days of receipt of your data.
Want a free sample? No problem – email us at mail@daisi.education
---
What have other schools said..
"Using the ASaP analysis with both staff and governors is so much more effective with the DAISI reports. The visual presentation makes it accessible to all, staff quickly assimilate the information they need to support their subject and school development plans. Whilst governors have the overview and detail they require to enable them to ask relevant, pertinent and searching questions with confidence and understanding."

Karen O'Donnell, Head Teacher, Athelstan Community Primary School

"Really analytical review of ASP – Exactly what I needed"

Stephen Down, Head Teacher, Bushmead School, Cambridgeshire

"Many thanks again and can I say what fantastic reports I think these are and so helpful."

Susan Ilett-Coupe, Head Teacher, Kneesall CofE Primary School, Nottinghamshire
---
If you would like more information, please click one of the following:
If you have any questions, please call 0115 876 1314.
Ordering is easy – click here to ORDER NOW.