Your school's data is being made available on the Analyse School Performance (ASP) website. Head teachers are telling us that they find the new ASP School Performance Summary hard work.
How to interpret all the numbers?
What measures are they telling you?
And how can you give this information easily to governors and the rest of your team?
To help our Nottingham schools, we have created ASaP report, which aims to make ASP easy, and last year we sent out our ASaP report to our schools, and many more from around England. And it is available for your school as well.
Summary

It starts off with a two to three page summary report, explaining in plain English the highlights of your school.

Following a two-page summary of your LA's results, so you can put your results in context, it continues with your school's characteristics, including absence, exclusions and SEN.
There then follows a 2-page analysis of your EYFSP results, and a 4-page analysis for Year 1 and Year 2 Phonics.
Please note: Our ASaP report is based on the data in the Analyse School Performance website. It generally uploads EYFSP and absence data in December/January, so your initial report will include the previous year's data. However, we will do a free refresh of your report when the validated data is released.
Key Stage 1

The analysis at Key Stage 1 is 13 pages long, and includes:
KS1 Attainment by EYFSP Attainment,
Subject Analysis, and
EYFSP-KS1 Transition.
Key Stage 2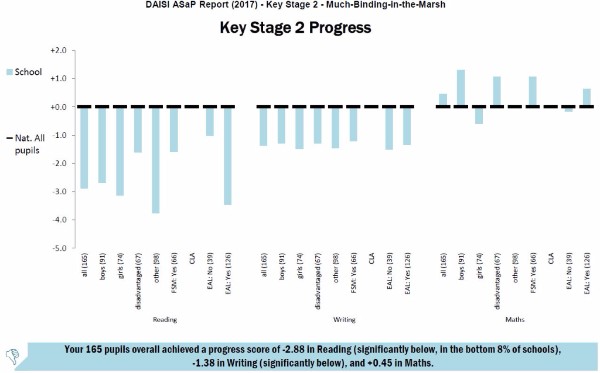 The analysis at Key Stage 2 is 23 pages long, covering:
Progress,
KS2 Attainment by KS1 Prior Attainment,
Scaled Scores,
RWM and Subject Analysis, and
KS1-KS2 Transition.
Each page, where appropriate, includes graphs and performance statements.
Analysis by cohort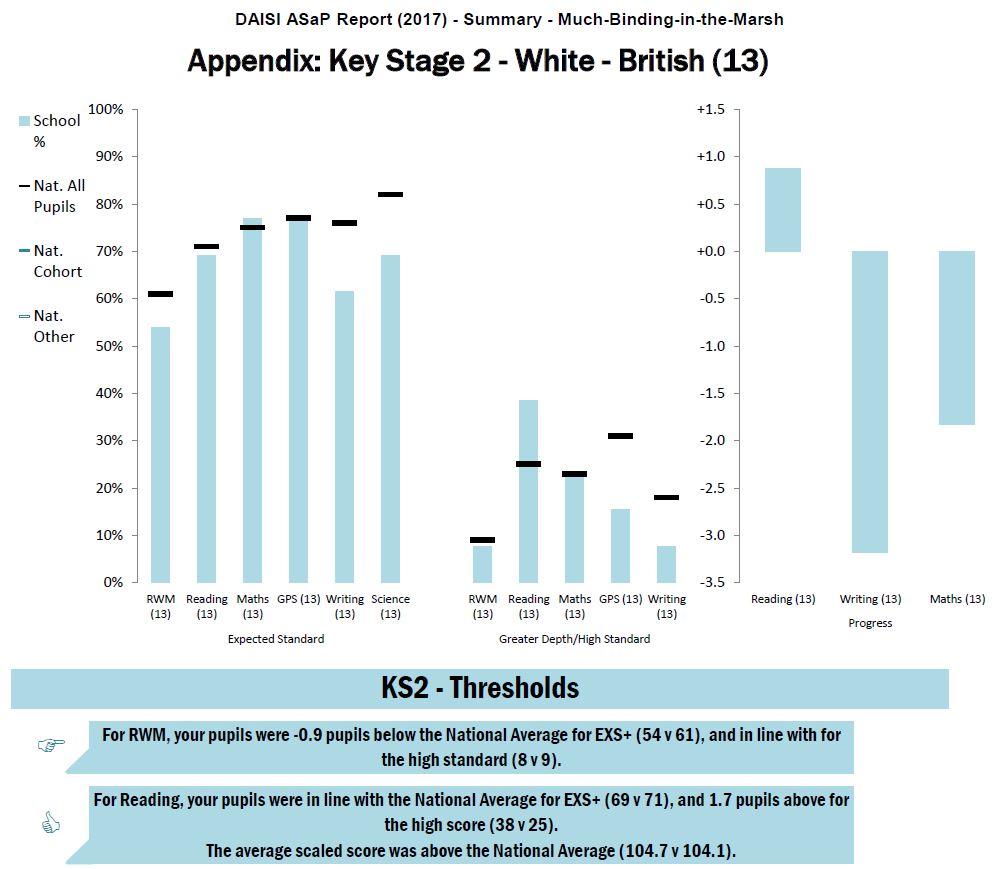 We also provide an Appendix Report covering your various cohort types:
All,
by Gender,
FSM,
Disadvantaged,
CLA,
EAL,
SEN, and
your school's ethnic groups,
so you can see in 1 or 2 pages that cohort's results, across the school.
Our ASaP report is typically 65 pages long for Primary Schools, 35-40 pages for Infant and Junior Schools – plus an Appendix Report of 25-50 pages. And all this for:
£249 for Primary Schools,
£169 for Junior/Middle Schools, and
£115 for Infant/Lower Schools.
This includes a free refresh of your report when the validated data is released.
What uses could you have with this analysis?
ASaP provides clear performance statements of the main data and what it means to your school.
You can easily incorporate key messages into the data section of your SEF,
use in your school development plan and
ensure key staff, Governors and school improvement partners are clear about the data.
Perhaps most importantly you can use it to prepare for Ofsted.
Many thanks again and can I say what fantastic reports I think these are and so helpful.
– Susan Ilett-Coupe, Head Teacher, Kneesall CofE Primary School, Nottinghamshire
We aim to produce your ASaP reports within 4 working days of receipt of your data.
More information is available in our leaflet "ASaP – ASP Made Easy"
For more information, please click here.
Ordering is easy – simply click here and fill in the form.