GCSE Mock Question Level Analysis
Are you giving your current Year 10/11 previous GCSE examinations as a mock exam?
Many schools are doing this so they can find out how they are doing, how they will perform under pressure and how their results will compare to last year's. But what other data could you get?
What Subjects are available?
We can create detailed Question Level Analy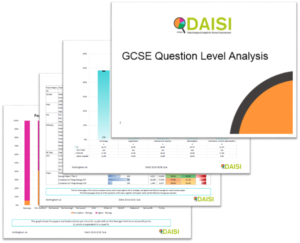 sis of the 2018 AQA, OCR and Edexcel papers for the following subjects:
Mathematics

English Language / English Literature

Biology / Physics / Chemistry
The DAISI KS4 GCSE question level analysis looks at the individual marks scored by pupils for specific questions, and aggregates them up into topic types.
This means your school leaders can quickly understand:
Where pupils scored higher or lower than the National Average per topic
and identify key topics for collective improvement.

.
Order your GCSE Mock Question-Level-Analysis by clicking here
Detailed Analysis and Insight
Your analysis includes:
Topics are you performing well in – Where are your pupils going to pick up marks?
Which topics need more work – to guide your intervention strategies
The Individual questions scoring most above & below national average
Paper by paper analysis – compared with National averages
Marks attained per topic – per school, and per KS2 APS band.
Topic analysis by cohort type (Gender, FSM, EAL, Ethnicity, KS2 APS)
Full Question analysis – to show which type of question your pupils need to practice.
We provide a benchmark assessment of how pupils performed in the subject, identifying strengths and weaknesses and quickly bringing a forensic focus to areas of learning within subject topics for further intervention.
Order your GCSE Mock Question-Level-Analysis by clicking here
Benefits for You
Reports ready to share with Assessment Co-ordinators, Senior Leaders, Subject Leaders, School Improvement Partners, Governors and Ofsted.
Single page views with clear graphs and charts, simple tables, colour coding and benchmarking against national figures.
Each question cross-referenced showing which area each question is assessing.
Immediately shows areas that are secure – Helps to guide teaching for the remainder of the year
Quickly finds the gaps and topics to focus on – Guiding which intervention strategies are needed.
Allows evidence based discussion on the implications for academic results.
Additional overarching Multi Academy Trust Strategic Report available.
Order your GCSE Mock Question-Level-Analysis by clicking here
Value for Money and Fast Delivery
Reports cost £150 each.
Full Mathematics report – only £150.
Both English reports (Language and Literature) – only £250 (save £50)
All 3 Sciences (Physics/Chemistry/Biology) – only £375 (save £75)
Our Science reports include data from both the separate sciences and the double sciences
Why not order the full set (English/Maths/Science) for only £700 (saving £200)
Full detailed, easy to understand reports – produced within 4 days of provision of data.
All Reports sent by secure email.
Having ordered your bespoke analysis – You will receive full instructions and a link to our input spreadsheet.
You then need to input your pupils' marks per question into our spreadsheet and send this to us
Order your GCSE Mock Question-Level-Analysis by clicking here
Please contact the DAISI Service via daisi@nottinghamcity.gov.uk or 0115 87 64020 to discuss your requirements.