Secondary Schools and Academies 
ASaP: ASP made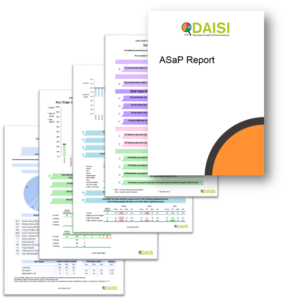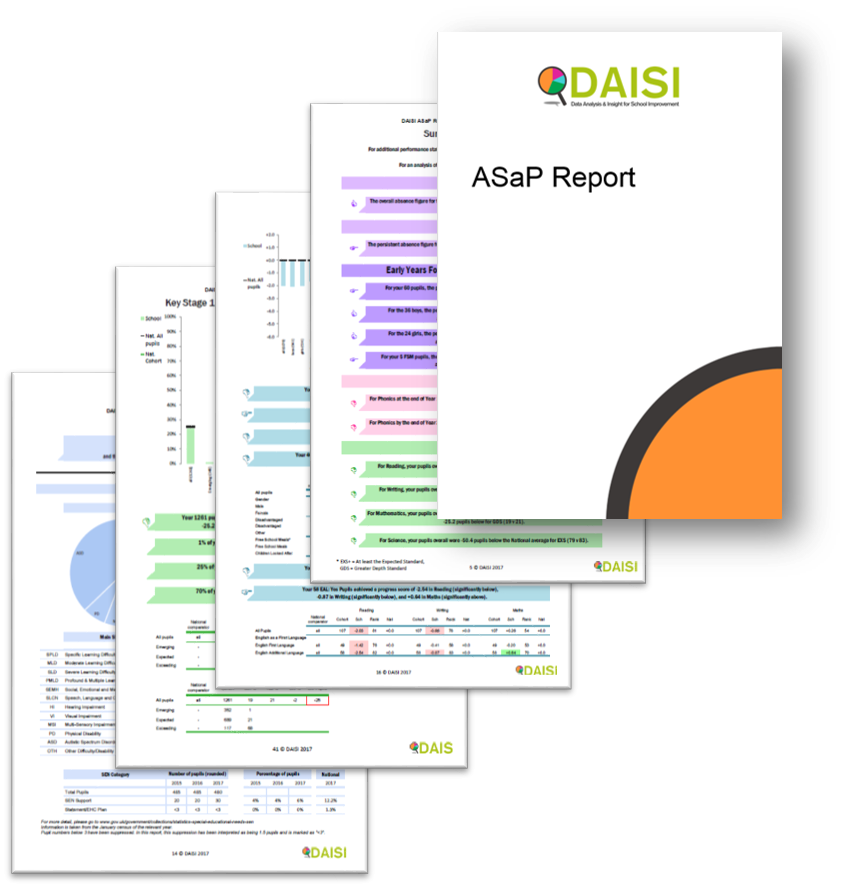 easy (Secondary)
Your School's Analyse School Performance Summary distilled into two simple to understand documents with personalised analysis on every page.
ASaP Report – a full Summary of your School.
ASaP Appendix – your data by cohort type – 

NOT in the ASP

.
We provide two standard versions, one using your unvalidated data, and then a second report using your validated data. Reports available individually or as a pair.
.
KS2 SATs Question Level Analysis – New Year 7s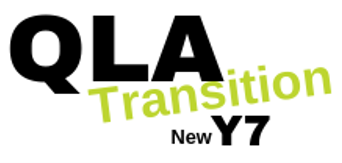 Available June 2019
DAISI's brand new Transition Pack aims to help teachers know the strengths and weaknesses of their new class before the start of term based on performance in the Summer KS2 SATs.
Detailed insight by teaching group
Forensic Topic Analysis
Build your early lesson plans around your students' needs to give them a flying start.
.
KS4 GCSE MOCK GCSEs Question Level Analysis
We can create detailed Question Level Analy
sis of the 2018 AQA, OCR and Edexcel papers for the following subjects:
Mathematics

English Language / English Literature

Biology / Physics / Chemistry
The DAISI KS4 GCSE question level analysis looks at the individual marks scored by pupils for specific questions, and aggregates them up into topic types.
.
Your One-stop Results Guide!  Fully Downloadable to pdf or ppt in less than a minute.
A FREE overview of EBacc, Attainment 8 and Progress 8 measures for every school and LA in the country.
Sign up to the Secondary Mailing List for the full extended version.
.
A FREE analysis of your Schools Analysis Figures for every school in the Country.
Extended Version available for free when you sign up to the Secondary Mailing List.
.
"Understanding your School's Data Guides"
Each guide gives you the up-to-date information about School Data and Formal Assessments for both Primary and Secondary Schools. 
Ideal for Teachers, Governors, NQTs and Parents.
Available to Read online or as a FREE pdf download.
.
---
En

hanced DAISI QuickView
Attaining Thresholds (EBacc, E&M)

Attainment 8 (English, Maths, EBacc, Open)

Progress 8 

Value added scores
               + Plus our Schools Explorer and Map Explorer
Guaranteed Best Prices (10% discount)
Monthly Newsletter 
New Releases – Find out what we do before anyone else does!
The best of DAISI Education and all Completely Free!!