Give your teachers the tools they need to give your new Year 7 a flying start.
Stress Free Analysis of the KS2 Reading and Grammar, Punctuation & Spelling SATs Tests
English Pack
Full Analysis of KS2 SATs Papers
Reading
Grammar, Spelling & Punctuation
Full Cohort Reports – Topics/Questions/Outcomes
Divided into Bespoke Class Analysis Reports
With Subject Specific Pupil Profiles pre-arranged in the class groups.
.
Use as Baseline Assessment – no marking or additional tests required
Focus your teaching at the start of Year 7 on areas of need.
Close learning gaps quickly with Topic-Based Targeted Intervention.
"I particularly like the pupil profiles and will be able to use these for identifying our able and year 7 catch up students."
KS3 Teaching and Learning Leader, Trinity Catholic High School, Essex
Order Your Y7 ENGLISH TRANSITION PACK by clicking here (Choose English Only)

---
Topic Based Strengths and Challenges
Our Analysis breaks the Reading and GPS tests down to distinct topics.
This first page is from our Reading report. It shows the strengths and weaknesses for all pupils, boys and girls, and how it compares with the Entire Year and the National averages. In this example, it shows that girls did particularly well in "Meaning of words in context", and both genders did not do as well in "Identify details".
Please click on the graphic to enlarge it (it opens in a new tab).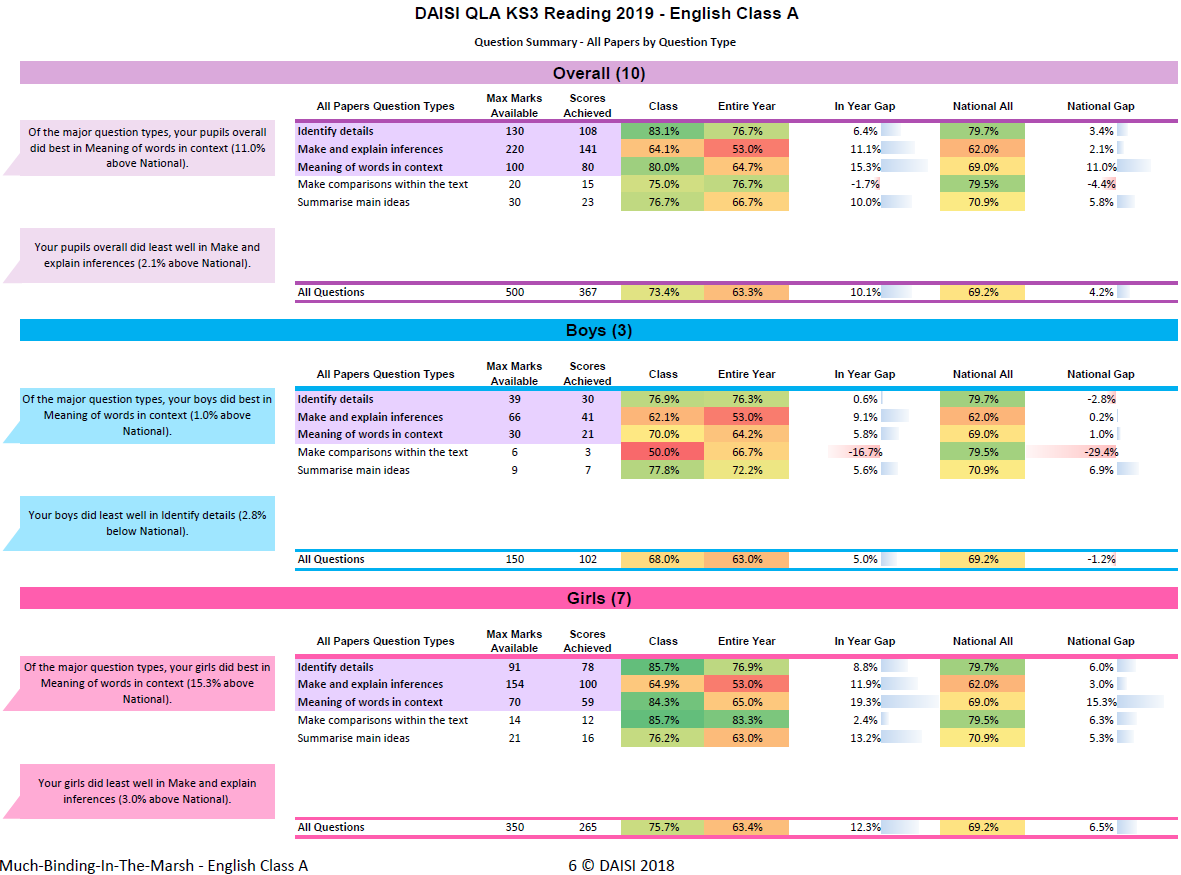 ---
Detailed Analysis by Question
Our Analysis breaks the tests down to individual questions.
This second page is from our Grammar, Punctuation and Spelling report.
It shows the top 10 questions which are most above or below the National average, so you can see the types of questions that your pupils found difficult or easier than average. It compares your class results against the entire Year 7, and against National.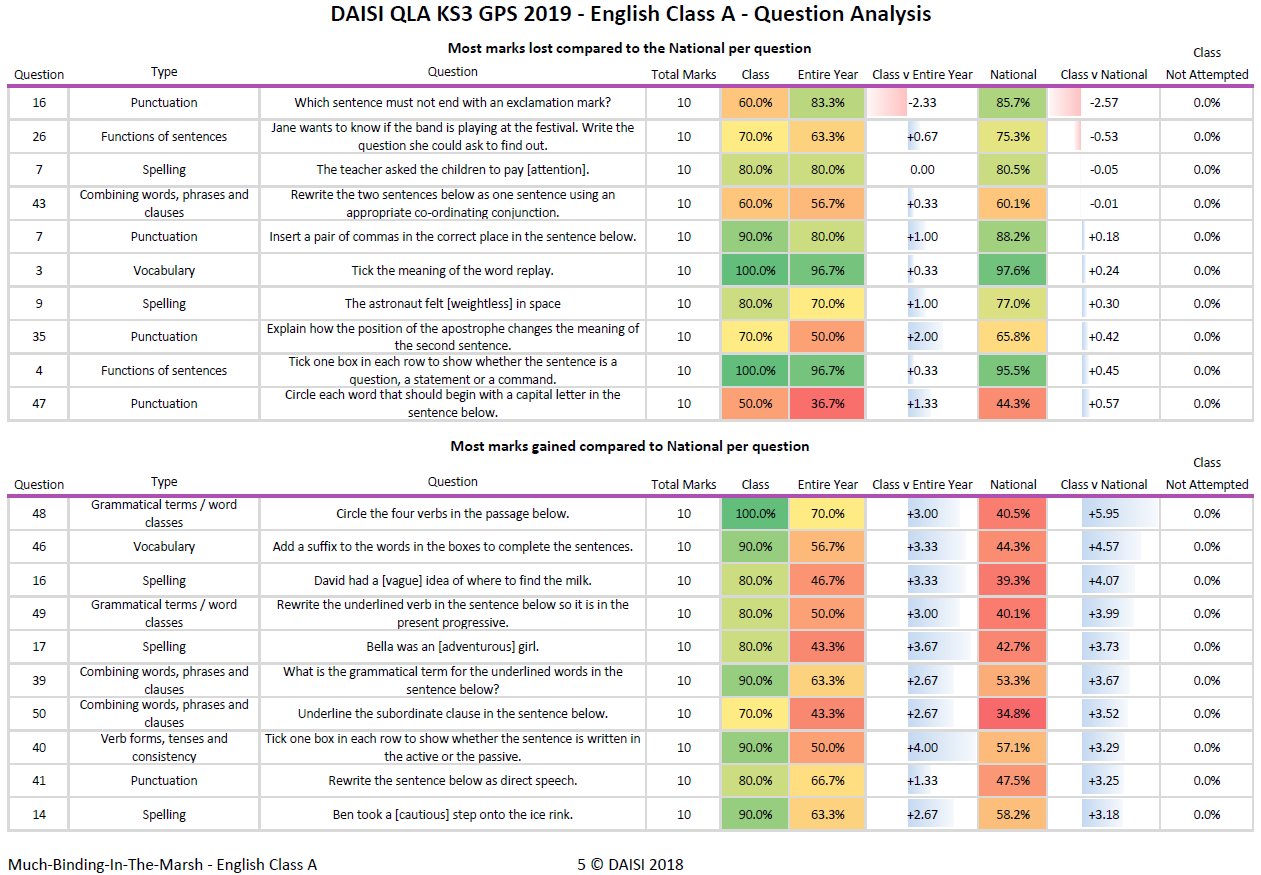 ---
Subject Specific Pupil Profiles
Our Analysis breaks the tests down to individual pupils.
This is an example of our GPS Pupil Profile. It shows for Christopher his strengths and challenges. Of the major topics (the ones with the most marks available in the SATs, highlighted in purple), Christopher was 5% above the National average in Spelling and "Verb forms, tenses and consistency", and 12% below in Punctuation.
It also shows a summary for Reading, Maths and Grammar, Punctuation and Spelling.
These are delivered as part of the Class Analysis – already pre-arranged into the class groups.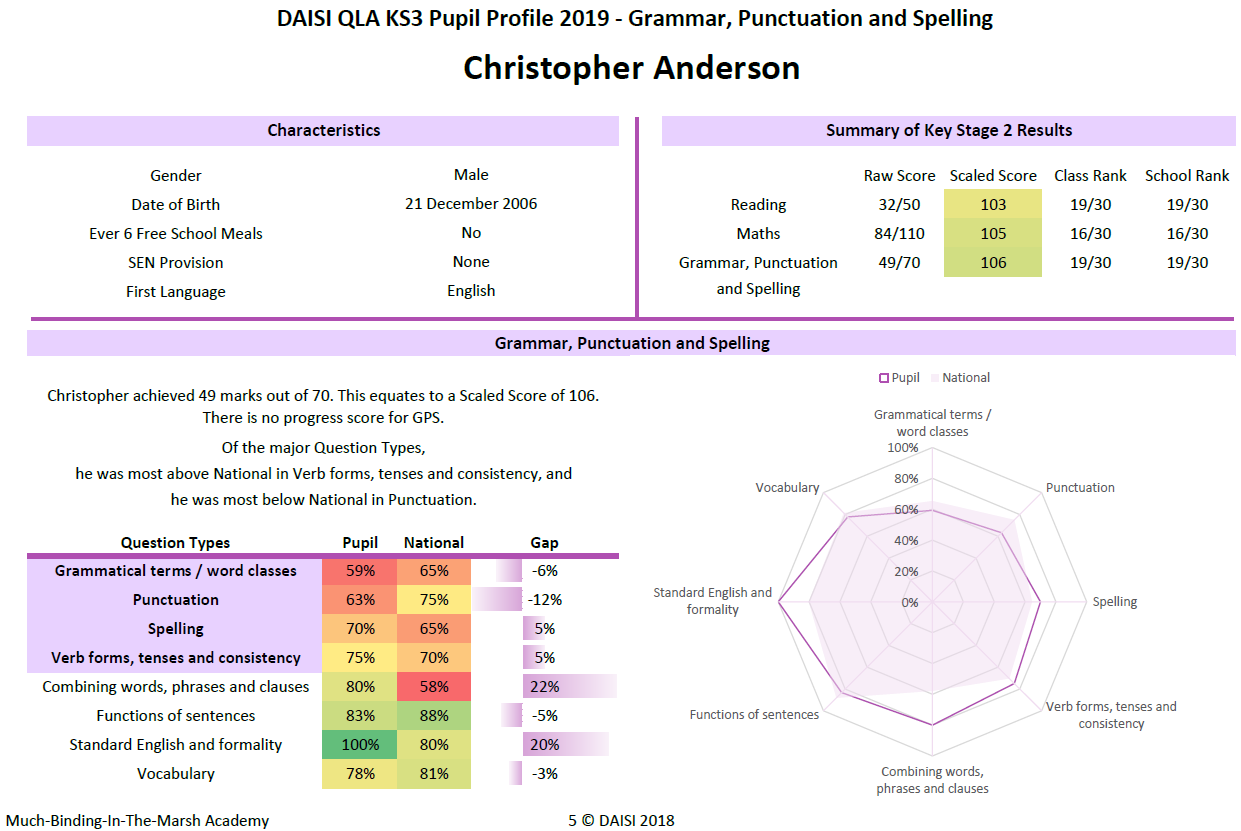 ---
DAISI Y7 Transition Pack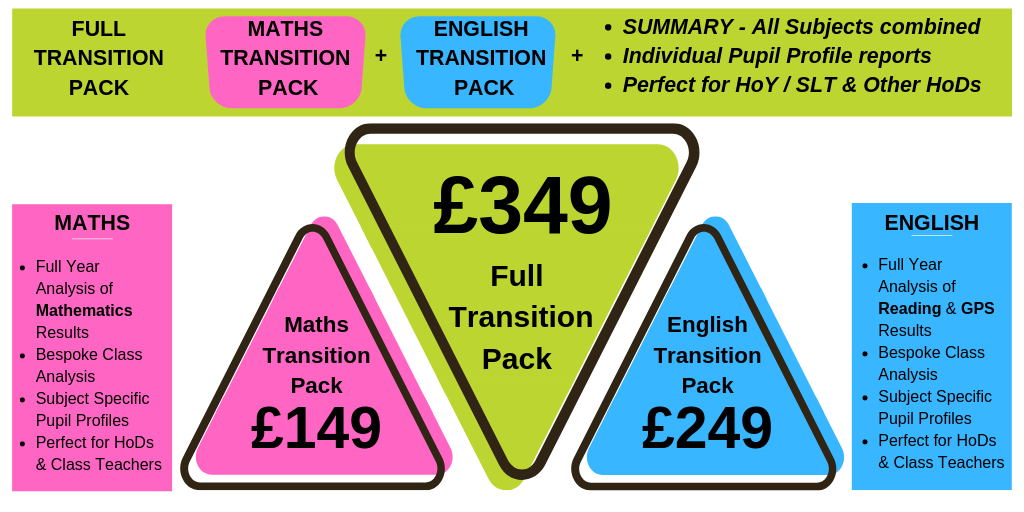 Individual Pupil Profiles
Organised into Bespoke Class Groups
Topic Based Insight
Evidence Based Curriculum Planning
No Data Inputting required.
Available for the start of the new academic year.
Order Your YEAR 7 TRANSITION PACK by clicking here
Sign up to our PREMIUM Mailing List before you order and receive an extra 10% off
For more information about Transition Packs – Click Here
Once your order is placed, you will receive an email explaining how to send in the data required including bespoke class lists.
Then sit back and we do the rest.
Your reports will be produced within days from provision of data.
All reports sent by secure email
Contact the DAISI Service by email or phone 0115 876 4020 should you wish to discuss your requirements.