Give your teachers the tools they need to give your new Year 7 a flying start.
Stress free analysis of the 2019 KS2 SATs tests for your incoming Year 7 cohort.
We are currently hard at work creating you an updated 
Year 7 Transition Pack for Secondary Schools 
More details available in June 2019 – watch this space…
The data should be released by the DfE to schools in late July/early August.
Have a look at our Previews by clicking on the links below
.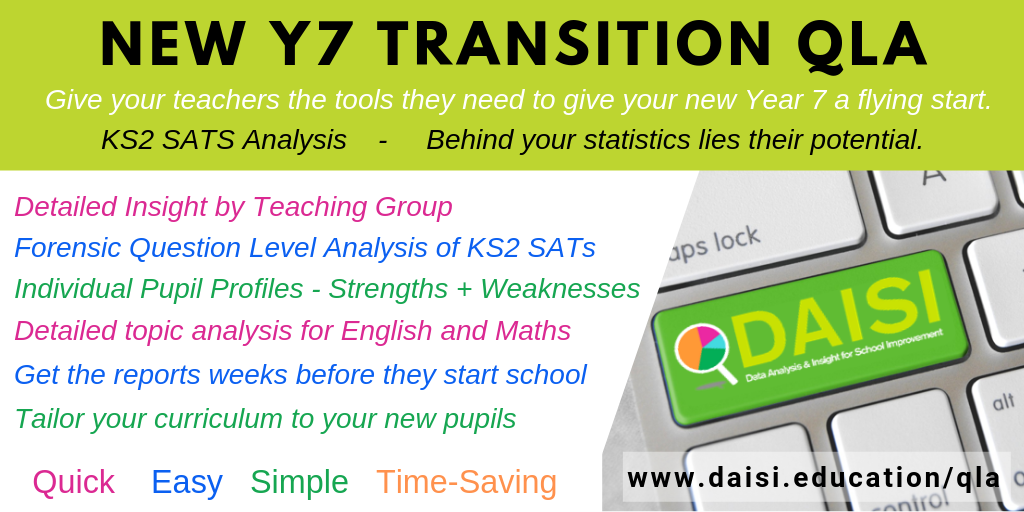 .
Benefits for you

Not a single keystroke of data inputting for schools!
Time saving – ready made analysis to inform curriculum and improvement planning
Available for the start of the new academic year.
Reports ready to share with Assessment Co-ordinators, Senior Leaders, Subject Leaders, School Improvement Partners, Governors and Ofsted.
Single page views with clear graphs and charts, simple tables, colour coding and benchmarking.
Pupil Profiles showing individual strengths and weakness
Immediately see areas that are secure and the gaps to focus on.
Each question cross-referenced; domain references/mark scheme/test framework, showing which subject area each question is assessing.
Forensic analysis to focus teaching on areas of need
Evidence based discussion for implications for the next academic year and what intervention strategies are needed.
Good evidence for Ofsted.
Share reports with other schools; identify common trends/needs, commission CPD support and identify successful curricula interventions.
Additional overarching Multi Academy Trust Strategic Report also available..
.
---