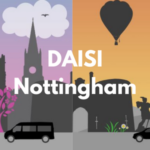 A Bespoke Training Session at your school with Shaun Burton, Principal Analyst of the DAISI Service
Your School Data analysed in advance and explained in detail over teams/zoom or on site at your school.
Ideal for Key Staff and governors.
See your position compared to local and national averages.
Receive forensic insight to help guide pupil interventions, strengthen whole-school strategies and prepare you for any upcoming Ofsted inspection.
Ordering
All services offered by the DAISI Service including year-round packages, bespoke reports, Data Checking, UPN-ULN searches and more are invoiced through Education Services Nottingham.
For information on pricing, please click here
Contact Us
Email Shaun.Burton@nottinghamcity.gov.uk to discuss your requirements.