Accurate, valid and reliable assessment and detailed analysis can provide valuable information for teachers and provide a clear baseline for a new term, new year and the return of formal examinations in 2022.
Full Year Data Package | Question Level Analysis | MAT/Federation
Our aim at DAISI Education is to put teachers in a position of knowledge to enable ALL pupils to realise their true potential
Full Year Data Package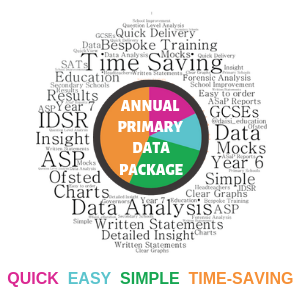 The DAISI Annual Primary Data Analysis Package remains the most cost effective way of using our service – combining the very best of what we offer into one stand-alone pack to give you the full picture of your Yearly Primary Data Journey.
All your Primary School Data Needs
Sent directly to your email throughout the year
The Complete Picture of your Yearly Primary Data Journey
All Arrangements are bespoke
Depending on size of school and data needs.
Multi-Academy Trust/Federation packages available.
Termly Assessment Reports – designed for your school/MAT
Two Standard ASaP reports (validated and unvalidated)
Readymade narrative reports for KS1 and KS2
Primary Scorecard for KS1 and KS2
Personalised IDACI statements
Click here for more information
Sign up to our Mailing List first and get 10% off your order for the whole Package
Click here to start a conversation about your bespoke package
---
Question Level Analysis
Our detailed Question Level Analysis breaks an assessment down into simpler parts – focusing in on successes and highlighting areas to work on and is Recommended by Schools across the country.
Individual Pupil Profiles
Our Pupil on a Page profiles enables the class teacher or tutor to focus in on the areas of need for each individual child.
Targeted Topic Insight
Our Analysis allows you to target those areas and questions across the whole class and create a bespoke curriculum around the needs of your pupils.
Detailed Cohort Analysis
We break the results down to enable you to see specific groups and cohorts enabling your tutors and classroom assistants the tools they need.
This analysis is perfect for teachers, tutors, teaching assistants and parents enabling a true focus on the areas to reinforce learning creating a personal learning journey for every pupil.
All our prices have been held for the last five years.
Why not look at our KS2 Combined Package or order together as a Trust/Federation.
Click on the product you want for more individual detail or scroll down for more general information…
Save 10% on all prices by signing up to our PREMIUM mailing list before you order..
Our NEW QLA – Year 5 gives schools the chance to clarify any learning gaps in mathematics before the start of the Year 6 curriculum.
Questions taken from the 2019 SATs past paper
Looking at the Year 3, Year 4 and Year 5 Curriculum only
Ideal for schools looking back at learning lost
and preparing for the return of SATs.
Full Mock SATs Test Analysis
Using 2016, 2017, 2018, 2019 SATs papers
Pinpoint where pupil's learning from
previous years is secure…
Target the topics and types of questions
needing further learning…
Focus in on the individual need of each
of your pupils…
We have created one hour baseline papers for use in school with year 6 and year 7 with all questions taken from previous SATs papers.
Full KS2 curriculum coverage.
Forensic analysis of results including Individual Pupil Profiles and Detailed Cohort Insight.
Available for Mathematics and Spelling, Punctuation & Grammar.
Your Official SATs Results analysed
Recommended by schools across the country!
Ready made Insight to inform
curriculum and improvement planning.
Forensic Analysis to focus teaching
on areas of need.
Evidence based discussion for implications
for the next academic year.
Stress Free Analysis of your new Year 7s
before they even enter your school.

Individual Pupil Profiles showing pupils'
Strengths and Weaknesses
Pre-arranged into Class Analysis to help
focus teaching at the start of Year 7.
Topic-based Targeted Invention
to help close learning gaps quickly.
---
Member of Multi-Academy Trust or Federation?
DAISI Education work with Multi Academy Trusts and School Federations all over the country providing detailed bespoke reports and data packs. We believe that each trust is distinctive and requires bespoke detail.
All our Reports can be customised for your Trust with MAT/Federation Averages*.
If ordered together, every school in your trust will receive the same level of forensic analysis – personalised in detail and including individual pupil profiles for every student – and we will then collate all this into your FREE MAT/Federation summary report**.
*Averages require all member schools to purchase QLA reports to aggregate the data.
**MAT/Federation level reports can only be produced once data received from all your schools
For more information – email us for a bespoke Quotation for your MAT/Federation
---
Next steps
Download our Top 10 reasons to buy DAISI Question Level Analysis
Read our Case Study and Feedback from Schools
Read our Blogs explaining how our QLA can benefit your school.
If you need any assistance in this, or want to know how we can reduce your teacher's workload by doing the analysis for you, Contact us by clicking here.. mail@daisi.education.