The whole of education is underpinned by the relationship between the teacher and pupil.
As the quote above from Sidney Hook states, you don't remember how you were taught but you do remember who taught you and what an inspiration they were. You remember the relationship that you formed with your teacher – the personal connection between you that remains with you to this day.
Every pupil has their own personal learning journey.
Teachers have the power to inspire and encourage. Every step of the way, the pupil learns something new – guided and instructed by their teacher and so learn what motivates them, what inspires them and what they want to become as they become older. Over time, they will grow in knowledge, confidence and learn so much about themselves and the world around them.
Remember these wonderful and true words from Ross Crockett..
"If there's anyone who is in a position to bring positive change into the world every day, its a teacher. Don't ever think that your efforts as a teacher are insignificant and make no difference. There is no telling what positive effect you will have on someone's life, especially a students. Be Brave, Stay passionate about your kids and your work, and don't give up – ever!"

Ross Crockett, Global Digital Citizen Foundation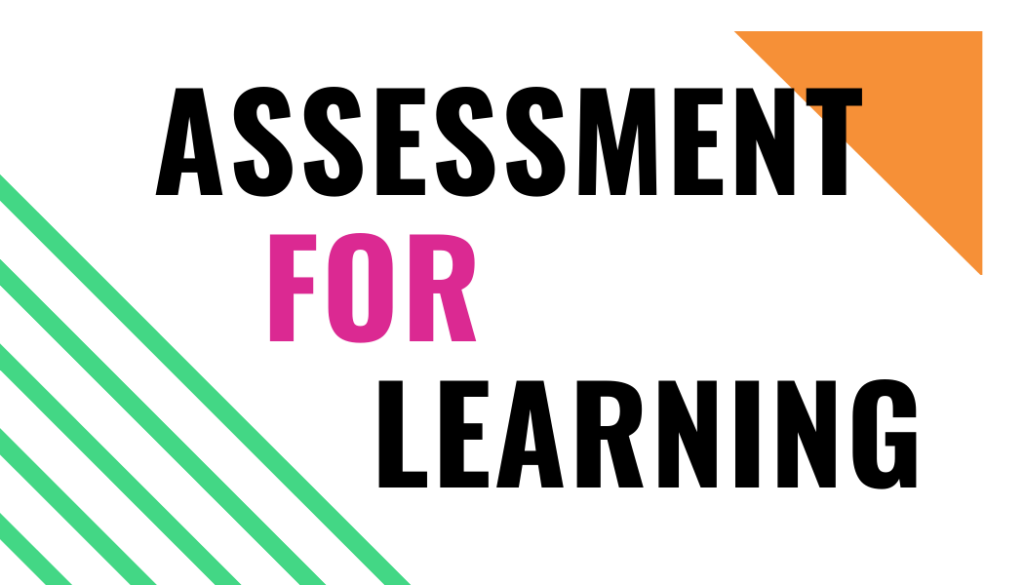 Assessment FOR LEARNING
Assessment seems to have got a bad name recently with the high stakes of performance tables and published results. We do seem to have created a world where any results mean judgement rather than a tool for improvement. In all phases of education, it seems the curriculum had been affected with all eyes focused on the national "assessment" at the end of the year.
However, all the best teaching uses assessment for learning purposes to enable staff to build up knowledge of what each pupil needs and requires moving forward.
By looking at what your pupils know, you can see how to push them further onto higher levels.
By seeing the gaps, you can work to close them with each individual in their own way.
By gazing back at previous results, you can create a new and differentiated curriculum for the future – purchasing resources to make the marginal gains.
All research has shown that pupils learn at different rates and will respond differently to different tasks. Assessment enables teachers to be in a position of knowledge and able to focus in on the needs of each of their pupils regardless of the appearance (or not) of examinations later in the year. You can use old papers as a baseline without needing an examination to prepare for. The results and analysis within could really help teachers in the classroom now.
Let's reclaim assessment for learning and create a personal learning journey for every pupil to help them realise their potential.
2021/22
This is especially relevant this year. We have all been through a different time with school closures. lockdown rules and more imposed on us. Huge strides in online education were made in months that perhaps previously would have taken years. Teachers have created learning packs, online lessons and updated communication systems – rising to the challenge of how to educate their pupils without the the essential face-to-face contact and personal interaction.
As the IFS stated in their opinion piece..
Schools, teachers and charities – not to mention parents – have gone to huge efforts to do what they can, but there is no substitute for time with a qualified teacher.

https://www.ifs.org.uk/publications/15291
All our pupils will have unknown issues from lockdown. Some will have been challenged, others empowered. Some will have thrived, others not. Depending on your school and catchment, some will be able to pick up learning, others will have stopped and will need to be re-integrated back into a school way of working with its rules and integral dynamics.
More than ever, we will need to learn about where our pupils are and create a personal learning journey for each of them.
We need to begin the journey where they are, understand and get to know them once more and enable them to pick up their learning at a point that is right for them… but then we will need to do assessments to place the teachers in a true position of knowledge and the right place to work with each of their pupils.
It is our job as educators to strive for the very best for our pupils and to teach them the full curriculum to the best of our and their ability to enable them to succeed in later life. This is not a time to cut corners and miss parts out. This is the time to focus on each child more closely and enable them to continue to realise their true potential – regardless of school closures, covid-19 or any changes to the usual routine.
We must not allow ourselves to expect less of them in the long run because of the situation of Covid-19.
"Every child deserves a champion, an adult who will never give up on them, who understands the power of connection, and insists that they become the best that they can possibly be."

Rita Pearson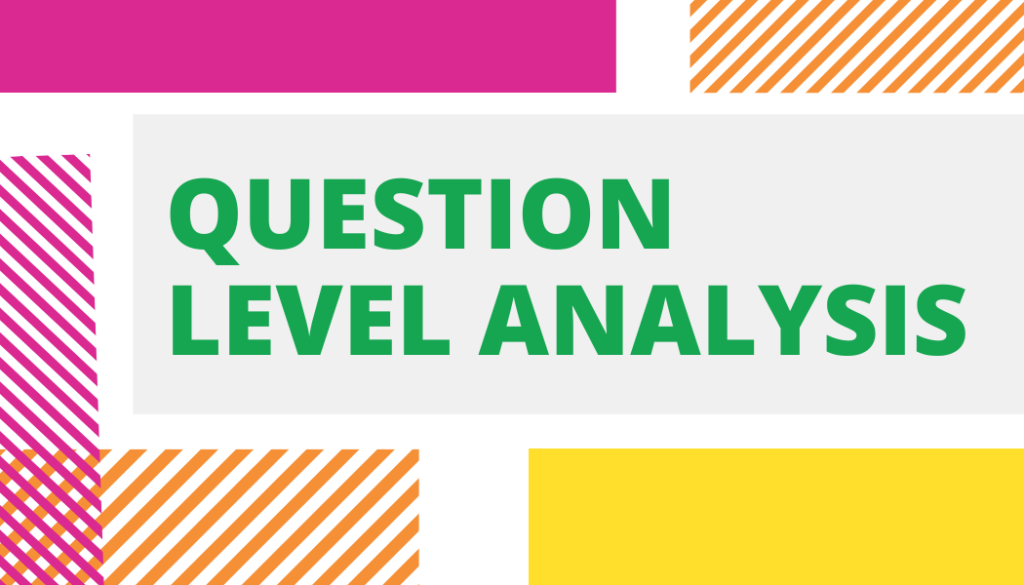 Question Level Analysis
Question Level Analysis breaks assessment data down into meaningful insight that teachers, pupils and parents can all use to make a real difference.
It helps teachers to focus their teaching on the needs of their individual pupils – refining the curriculum to secure those marginal gains and enable better results.
It can help to guide the work set in the classroom or remotely at home knowing that the topics covered are the personal need of those pupils.
It enables staff to look at pupil groups, cohort groups, SEN needs and more.
It guides school decisions when targeting resources, or creating a new curriculum – giving valuable instructions for the future by looking at the gaps from the past. By looking at how your pupils performed, you can see exactly where you will want to make changes for later in this year or even the next.
It places teachers in a position of knowledge at a time where there is no real stability or consistency to the normal rhythm of learning in school.
Individual Pupil Profiles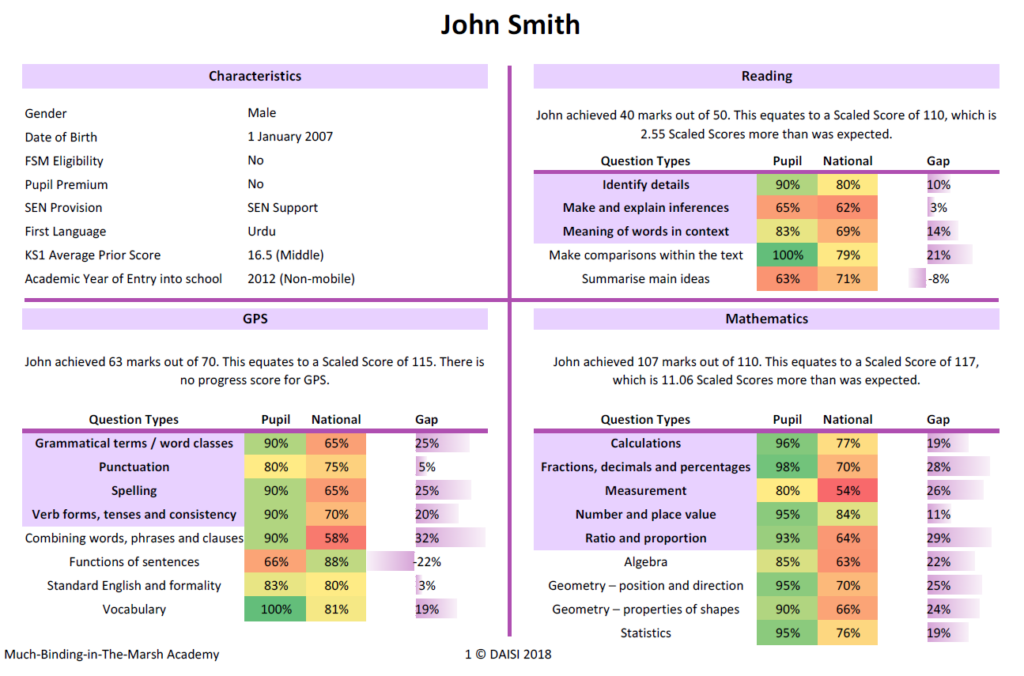 DAISI Education Question Level Analysis takes the results of an assessment and creates individual pupil profiles for every pupil.
By breaking down a test result into different areas, it enables the pupil to focus on these topics knowing the overall improvement will come.
For example, teachers and tutors can focus on certain questions or topics with a smaller group – giving them targeted support in a chosen area.
This analysis is perfect for tutors and teaching assistants as they focus on the areas to aid catch-up and recovery from the time away from formal education.
"The QLA for each individual child is really useful when looking at specific children within groups SEN, FSM, PP looking particularly at their individual progress in each subject."

Headteacher, Fernwood Primary School, Nottingham
"Question Level Analysis is a great tool and really helps us to analyse our data in great detail. It have saved hours of work and allowed me to focus on how we can improve teaching and learning rather than spending time on the data analysis – a very welcome change."

Headteacher, Captain Cook Primary School, Middlesbrough
Arrival at Secondary
Question level Analysis can also work on arrival at Secondary school allowing staff to understand new pupils as they start their new school phase.
During a normal year, our Transition QLA can break down SATs results to give giving detailed insight into your new pupils' Strengths and Weaknesses before they even set foot in school.
Additionally, at some schools, teachers can use the Transition QLA to be informed of the topic strengths and weaknesses, at either the pupil level or at a class level. This can help pupils to either catch up or to excel at the highest levels.
For maths, some schools were able to split their pupils into various topic-based groups, to ensure that pupils had targeted individual support as early as possible, and made real progress in the first half of the Autumn term.
This enabled learning gaps to be closed for all pupils, and gave pupils the best chance to fully access the Key Stage 3 curriculum.
"Thank you very much for this. The analysis is great and we really want to send the pupil profiles home to parents to help improvement."

Head of Maths – Colonel Frank Seely Academy (Secondary)
"Question Level Analysis provides key topic evaluation to prioritise areas of focus in the catch up sessions enabling more targeted and focussed individual intervention to take place".

Deepings School, Peterborough (Secondary)
DAISI Question Level Analysis
DAISI Education have been creating bespoke Question Level Analysis since 2014.
Pinpoint where pupils' learning is secure
Put your teachers in a true position of knowledge.
Recommended by Schools across the country.
Our wide range of reports have helped many schools find the marginal gains they needed to improve their results over time.

Every child deserves a Champion | School Case Study | Feedback from Schools
Question Level Analysis – So Much more than Exam Prep
---
Next steps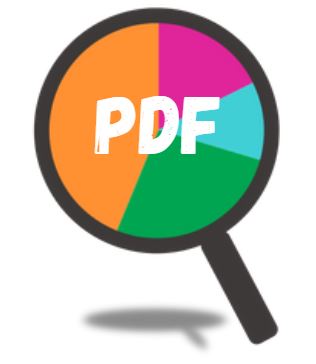 Have a read of our Top 10 reasons to buy DAISI QLA by clicking on the PDF icon.
Click HERE to see our full range.