Your School's
Analyse School Performance Summary
broken down into
Two simple to understand Reports
with
Personalised Analysis on every page…
.
Available for
and
.
.
The ASaP Report
ASaP is packed with ASP charts plus our ready made performance statements covering the basic characteristics of your school. Easy to Read Graphs and Charts show your key performance indicators in an easy to understand way.
.
The ASaP Appendix
Your ASaP Appendix report presents your data by up to 42 different cohort types – a feature not available in ASP. Time – Saving forensic analysis that saves you having to look for data in multiple places and immediately shows areas that are secure and the gaps to focus on.
.
.
Reports available individually or as a pair.
We provide two standard versions of the ASaP Reports – the first using your unvalidated data, and then a second report using your validated data.
We aim to produce ASaP reports within 4 working days of receipt of your data.
We can also create an alternative report based on your School's Own Data – as opposed to the Data within the ASP.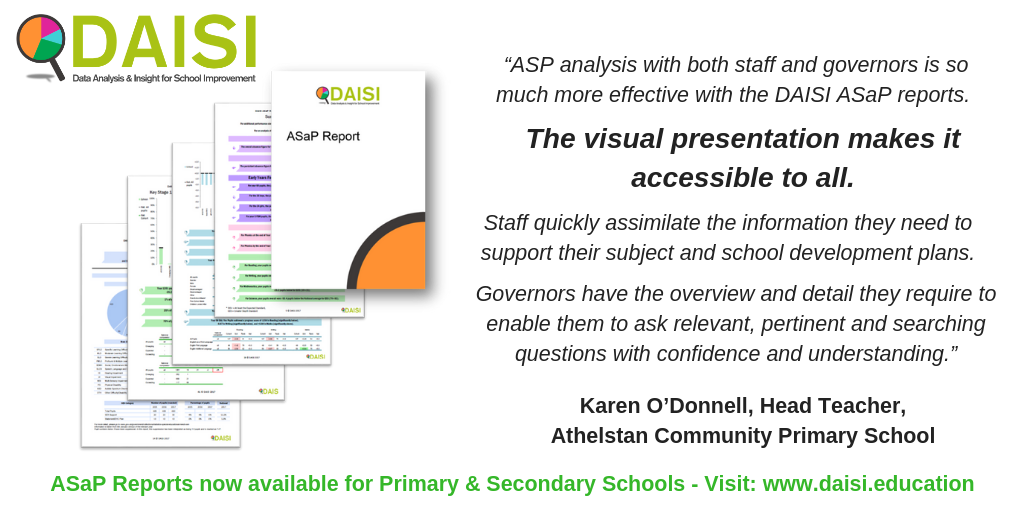 .
.
ASaP provides clear performance statements of the main data and what it means to your school. All Reports have been created with Governors and Key Stakeholders in mind.
You can easily:
Incorporate key messages into the data section of your SEF
Use key analysis in your school development plan
Work with key staff to ensure evidence-based decisions are taking place around curriculum planning
Use to present your data in a simple way to Governors and school improvement partners to help them support you better.
Perhaps most importantly you can use it to prepare for Ofsted as it is cross referenced to the Ofsted Inspection Data Summary Report (IDSR).
.
.